Everyday Disciple Workshop
$37.00 $97.00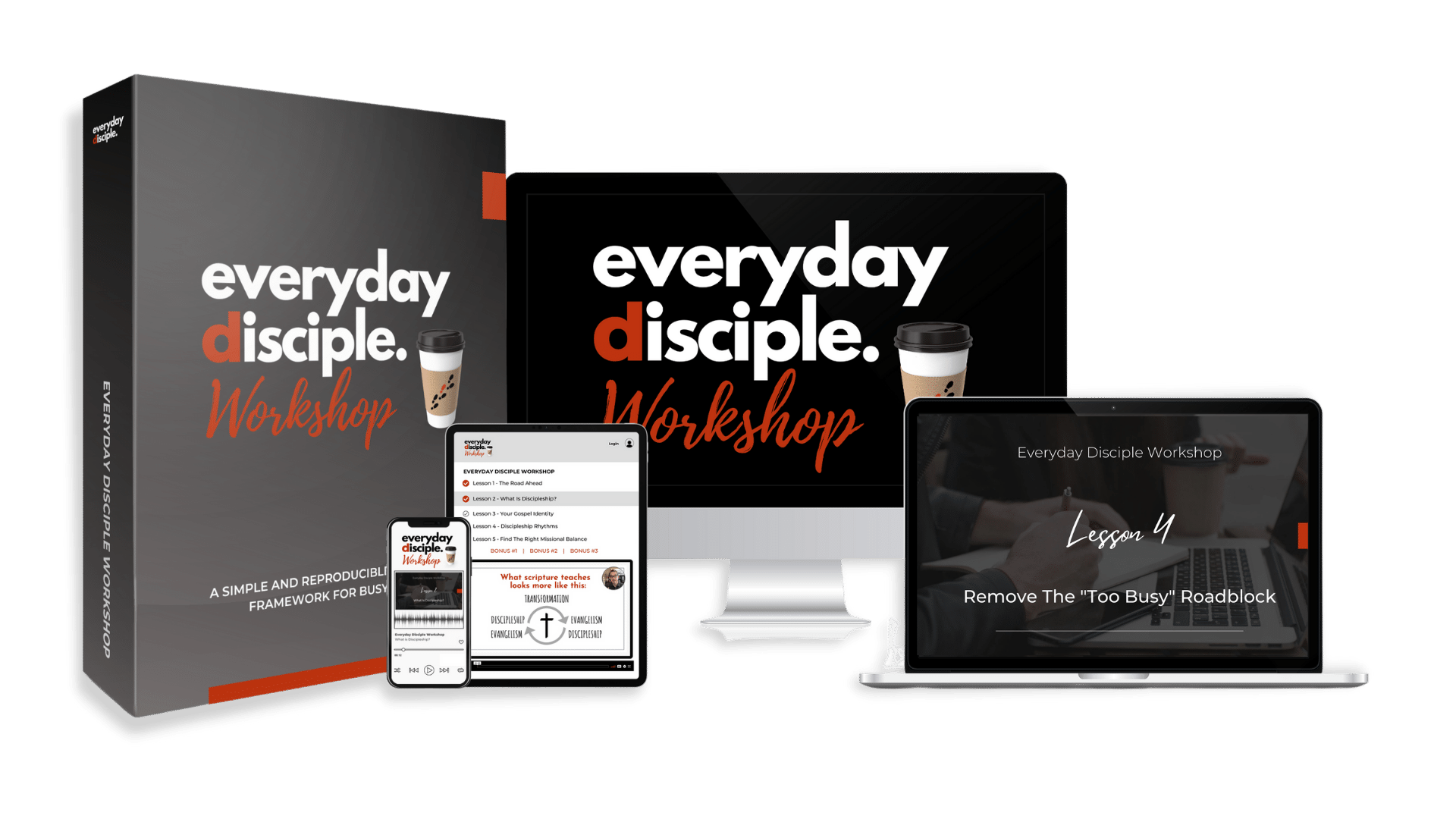 A Simple and Reproducible Discipleship Framework for Busy People
Start increasing your spiritual freedom and relational peace!
You can learn to make discipleship and faith part of the rhythms of your normal, everyday life with others.
✅ STEP-BY-STEP LESSONS
Each video is absolutely packed with content. I'll walk with you step-by-step as you learn exactly how to begin making discipleship part of your normal daily rhythms with others.
✅ PROVEN DISCIPLESHIP FRAMEWORK
You won't just come away with more head knowledge! Following our Everyday Disciple Framework, you'll start to make real, meaningful progress in making discipleship part of everyday life.
✅ QUIZZES – WORKSHEETS – RESOURCES
You'll have the tools you need to follow along and pass what you're learning and experiencing on to others... with confidence.
You'll get immediate access to this workshop to move at your own pace, watching and re-watching the lessons as many times as you want or need to. And please... share this with others.
Welcome! I'll introduce myself and tell you a little bit about how we discovered how to make our faith in Jesus and disciple-making, part of the rhythms of our normal lives.
Lose The Religious Pressure
Learn a practical, working definition and framework of discipleship that will forever change the way you do evangelism and make disciples of Jesus.
Embrace Your True Identity
Understanding our true, God-formed identity changes our motivations and sends us OUT on mission. This is key to making disciples in everyday life.
Remove The "Too Busy" Roadblock
Learn six ordinary rhythms of your life that are perfectly created by God for natural, daily discipleship that fits everyone's schedule.
Build Deeper Connections To God
Discover how Jesus balanced his time and attention as he moved his disciples from curious onlookers to mature disciple-makers. [Answers the "How do we do this?" question.]
 > Plus These BONUS Trainings <
Moving "Renters" to "Owners" in Ministry
This fast-paced training will have an immediate benefit for you if you are leading ANYONE else in your life… with the hope that they will mature and be able to do the things you currently do.
Your Proactive and Reactive Mission
This training will help you see the difference between the Proactive discipleship opportunities you have... and the Reactive opportunities that come up along the path of life and in relationships.
The Holy Spirit and Missional Living
Making disciples can be hard! The thing that is going to secure our joy and freedom along the way, is going to be the power of the Holy Spirit – not our own strength and cleverness. The pressure is off!
Begin to experience, and help others live with the freedom, confidence, and closeness Jesus lived with his disciples and promised to us.